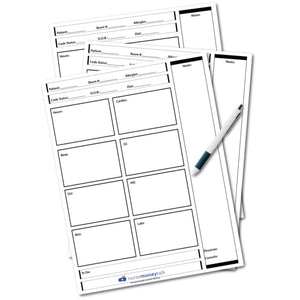 Nurse Report Sheet (Portrait Style - 1 Patient Per Sheet)
Regular price
$2.99
Sale price
$3.99
Unit price
per
For busy nurses who are looking for an already made report sheet, this is for you.
The report sheet has space at the very top for patient identification information.
For example:
Patient Name
Room Number
Allergies
Code Status
Date of Birth
Diet
After that you have generous box spaces you can use to jot down notes related to:
Neuro
Cardiac
Respiratory
GI

GU
Musculoskeletal
Skin
Lab Results
At the bottom of the nurse report, there's space for a to-do list and the right of the report sheet features a slot to jot down notes and who the patient's attending physician is along with any consults.
This nurse report sheet is designed for one patient per sheet or side. If you're wanting a nurse report sheet that features more than one patient you can see some of our other options here.
Download includes the PDF (1 page) original file.
*Please note this is a digital download.  It will be EMAILED to you after purchase.
*You will NOT receive a physical item in the mail.
*This is for your own personal use, you are not allowed to redistribute or share this nurse report sheet in any way.
*Due to the nature of digital products there are NO refunds.
Please Note: What you'll be paying for are digital products. We won't be shipping you any item. All you have to do is download the printable. Easy Peasy.
All printables are password-protected and subject to copyright. You can not change, recreate, manipulate, edit, or alter the printables.
Below are download instructions that should work for most. Please go here for more detailed download instructions.
PDFs
We send all files in the PDF format for ease of use and printing. 
How to open pdf files:
Most laptops, computers, and smartphones come pre-installed with some kind of PDF reader. If your device does not have one installed, you're going to need to download one to view and print the file.
Adobe Acrobat Reader DC is one of the most popular PDF readers on the web. You can download it here.
Zip Files
Some of our products will be sent as a Zip file. We use Zip files for large files because it allows us to compress the data (make it smaller). The end result is that it makes downloading the file a lot faster and easier for you. Here's how to unzip it:
How to unzip ZIP files:
On mobile
We recommend not downloading these on mobile devices (we've tried to set them to not download on mobile). You can buy them on mobile and then download them on a laptop or desktop later.
If you try to download it on mobile and it works for you, here's what you should know. 
Many mobile devices will have an app pre-installed that can unzip Zip files and allow you to access the PDF inside. If that's not the case for you, try searching in the AppStore (Apple) or Google Play Store (Android) by typing in "Zip file," and you'll get options of apps you can use. A good free one is an app called  "FileExplorer Free." 
Another option is that some phones will have the ability built-in, so you can also try a long hold on the zip file and click on "Extract" to unzip the file.
On Laptop/PC 
Download the zip file. Right-click on the file and select "extract all." For most, a window will open up asking you where you want the unzipped file to go. Select the destination. Leave "show extracted files when complete" checked and hit the "extract" button.
Frequently Asked Questions
Why can't I find the downloaded file?
Check your "Downloads" folder or search for the file's title on your computer.
Please understand that technology can vary greatly, and for those reasons we're not able to provide any technical support at this time.
---
Share this Product
---